There are 40 churches, three cathedrals and two monasteries that together provide a rich history of Kharkov Ukraine. All of them are beautiful and unique, but I wish to present your attention to 10 of them.
Holy Shroud Cathedral
The oldest stone construction and local architectural landmark stretching back to the beginning of the history of Kharkov. The Cathedral was erected in 1689 as part of the fortress. The Holy Shroud Cathedral is an example of Ukrainian Baroque. Its composition reminds that of a three-frame wooden church with adjacent belfry typical for Ukrainian architecture.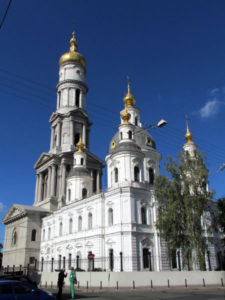 The Annunciation Cathedral
The tall construction dominates the area on this side of the river. It is an integral component of the panoramic view of the western part of the city. The Cathedral is distinguishable by abundant small details and polychromatic facade.
The unusual design of the Cathedral combines in one construction a cross-and-dome church with five domes and a tall (75 meters) circle belfry of a Gothic silhouette.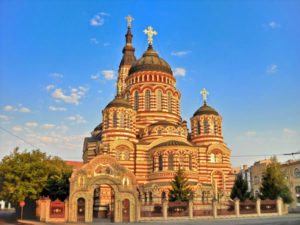 The Dormition Cathedral
The Dormition Cathedral, which survived the historical turmoil, was constructed in 1773 on the site of the stone church destroyed in the fire. It is designed after the Saint Clement Church in Moscow. It took sculptors, icon painters, and wood-carvers six years to complete the interior design of the Cathedral and to create the enormous wooden stand for the icons.
The Roman-Catholic Church
It is accomplished in Gothic forms — lancet portals and windows, high belfry, complete with a spire. In the 1990s the church building was returned to the believers. The church restoration work is under way along with the holding of religious service. The scenic part of the restored Pushkin Theatre, as well as the facades of modern buildings, overlook Gogol Street, too. Architect B. Mikhailovskyi, 1887–1891.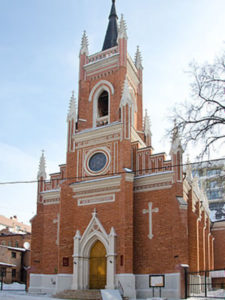 The Ozeryanska Church
The Ozeryanska Church, erected in 1896 by the Eparchy architect V. Nemkin, is a unique construction. It's the only church in town that uncharacteristically combined in its design Roman and Old-Russian motives: it is built as a basilica and at the same time is decorated with 13 small domes and intricate stone ornaments.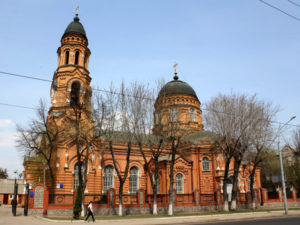 The Choral Synagogue
The Choral Synagogue, which is the only preserved Jewish Temple out of the four earlier existing ones, is conspicuous by its unusual architectural forms.
The religious building, executed with the elements of Oriental architecture and Romanesque forms, was built in 1914 after the design project of a Petersburg architect Ya. Gevirtz. Covered with Chile copper, the conical dome, of this largest in Europe synagogue, towers for more than 30 meters over the historic downtown. Due to its location on the summit of the steep slope running to the Kharkiv river, as well as its dimensions, the synagogue occupies a significant place in the eastward panorama.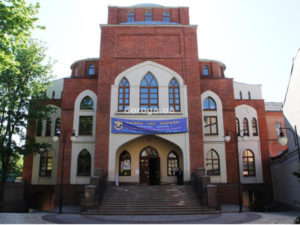 Interested in visiting any of these holy places and learning the history of Kharkov?
Social Share