For five years now I have been travelling with my dog, Willie. Every time we decide to go to a new country we first have to determine a few things:
1) Does the destination allow importation of animals without quarantine?
2) What kind of health certificate is needed?
3) What vaccinations and treatments are required?
4) What airlines will allow pets to travel onboard?
For taking your dog to Ukraine, the process was relatively easy:
1) Ukraine does not impose any restrictions or quarantines on the importation of pets.
2) We could use a standard health certificate issued by our local government of Canada for exportations of pets. It needs to be completed by a local vet within seven days of travel and endorsed by the Canadian Food and Inspection Agency (If travelling from the USA then endorsement is by APHIS)
3) Ukraine requires a current rabies vaccination.
4) Polish Airlines "LOT" had a direct flight to Warsaw with a connection to Kiev that allowed pets onboard.
The costs to take your dog to Ukraine will include the following:
Checkup and completion of health certificate by local Veterinary – $65
Endorsement by CFIA – $20
(APHIS in the USA – $38)
Pet on board fee from LOT Airlines – $200 return
Import fee in Ukraine – none
The hardest part of the trip would have to be the flight duration. It was almost 8 hours so it required a little planning so that Willie would sleep for most of the flight. It was the longest flight he had ever been on, and at Warsaw airport, there was no easy way for him to go outside to relieve himself. He had little choice, so he went to the bathroom inside the airport, and I had to clean up after him.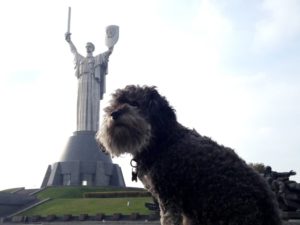 In Kiev, there was no mandatory customs checkpoint. If you had something to declare you would go through customs and if not you could just walk through to exit the airport. They did notice that I was with a dog, but did not bother to stop me and ask if I had the proper documents.
So we made it to Ukraine and stayed for six weeks. Willie was a star there, more than any other place we've travelled. Everyone stopped to smile and say hello to him. I think it may be because Ukrainians mostly own larger breed dogs and Willie is small and cute. It's a place where he would do very well. He would never go hungry there.
Leaving Ukraine was a little more involved. It was the same as exporting a pet that was from Ukraine. Here is what we had to do:
1) Within ten days of travel, obtain a health certificate from a particular government authorized veterinary in Kiev. They require the pet to be healthy and have current rabies vaccination. They will charge you a fee of approximately $5 for this certificate:
Veterinary Station Kyiv
vul. Volynska 12
Hours: Monday to Friday 9:30am – 5pm
Telephone: 243-7239
2) At the day of departure visit the veterinary check station at Borispol Airport before checking into your flight to show the initial health certificate and obtain a secondary certificate. It is located in a room marked "VETERINARY INSPECTION" on the second floor at Terminal B and is open 24 hours a day. If you are on an early flight, you may need to knock loudly as the vet may be sleeping. They will charge you a fee of approximately $5.

After this experience, I would say that if you are thinking about taking your dog to Ukraine, I would only do so if you intend to stay there for at least a few months or if you are moving there permanently. The amount of hassle, stress and expense would not make it worth taking your dog to Ukraine for a shorter time unless you really cannot leave your pet behind.
Social Share